E-Tv Guajrati
Screen, 12 June, 1981, London
London Discovers a new Rafi
During the last few weeks, the city has been experiencing a great phenomenon. Wembley Conference Center has been drawing crowds and full houses to see and here a new Mohmad Rafi from Ahmedabad.
A young artist, who is a cripple and hops on to the stage in crutches, Bankim Pathak has captured the imagination of Londoners by singing all Rafi's songs in a remarkable similar voice. Although there may be many more duplicates of Rafi all over, Bankim really gives the effect of Rafi's voice and reminds the audience of the late singer. People have liked his singing so much that he receives thunderous applause after each item and encour after encore after the finale.
He is accompanied by Anila Gohil, another young singers from Gujarat, who sounds like Lata and Shamshad. They both appear in the Jagdish Pandya Night, headed by a veteran comedian-mimic Jagdish Pandya.
Part proceeds of the shows are being donated to the Kalyan Ashram Trust, which has been formed to provide fully equipped mobile medical vans for various part of India.
As 1981 is the year of the disabled and as Bankim Pathak is a disabled person himself, the proceeds of their next performance will be donated for the benefit of the disabled in this country.
India Post – Regional, South-west, 11th August, 1995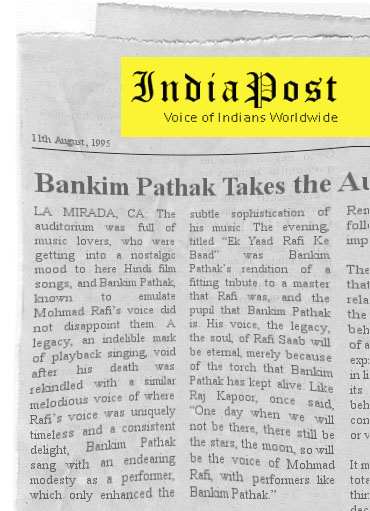 Bankim Pathak Takes the Audience Through a Nostalgic Evening
LA MIRADA, CA: The auditorium was full of music lovers, who were getting into a nostalgic mood to here Hindi film songs, and Bankim Pathak, known to emulate Mohmad Rafi's voice did not disappoint them.
A legacy, an indelible mark of playback singing, void after his death was rekindled with a similar melodious voice of where Rafi's voice was uniquely timeless and a consistent delight, Bankim Pathak sang with an endearing modesty as a performer, which only enhanced the subtle sophistication of his music.
The evening, titled "Ek Yaad Rafi Ke Baad" was Bankim Pathak's rendition of a fitting tribute to a master that Rafi was, and the pupil that Bankim Pathak is. His voice, the legacy, the soul, of Rafi Saab will be eternal, merely because of the torch that Bankim Pathak has kept alive. Like Raj Kapoor, once said, "One day when we will not be there, there still be the stars, the moon, so will be the voice of Mohmad Rafi, with performers like Bankim Pathak."